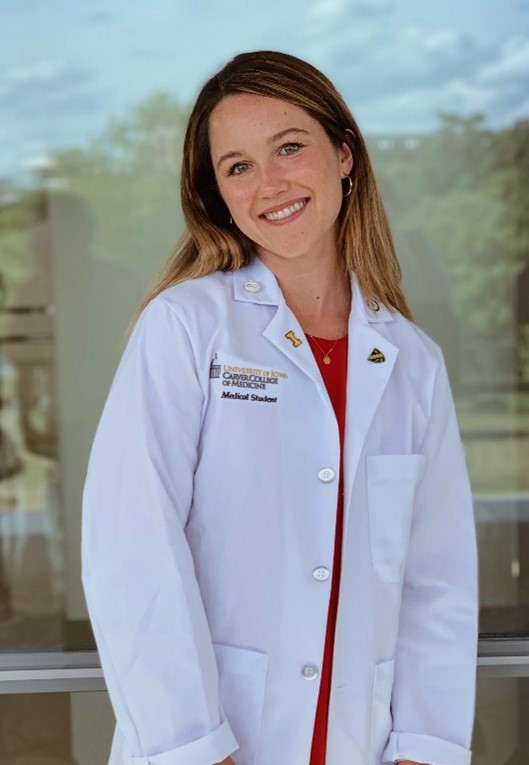 "The great thing about being trained in both medicine and engineering is that I will have a unique ability to bridge the gap between the two. My hope is that bridging this gap not only benefits my future patients by making me a more well-rounded doctor but also allows me to help advance science and healthcare beyond even just the patients I see."
Hometown: Davenport, Iowa
Year: Third-year MSTP student, first-year PhD student
Program: Biomedical Engineering and Medical Scientist Training Program (MD-PhD)
Mission Areas: Biotechnology
Lab: Ankrum Lab
Advisor: James Ankrum, Associate Professor of Biomedical Engineering
What brought you to the Iowa Technology Institute?
I was initially brought to the Iowa Technology Institute due to an interest in Iowa's Medical Scientist Training Program (MSTP), the combined MD-PhD program. With my background being in Materials Engineering, I knew I wanted to emphasize integrating engineering and medicine throughout my time at Iowa. Joining the Ankrum Lab and being a student in the Iowa Technology Institute allows me to widen my reach to an even greater number of disciplines, which helps me to achieve my goal of becoming a great physician-scientist.
Describe your research and how it is intended to improve our world.
I currently work on research studying how environmental toxins may play a role in the development of obesity by the disruption of adipocytes, fat cells, and their precursors. While often villainized, fat does plenty of great things for us like storing extra energy, protecting our organs, and supporting other cells. Fat also plays a vital role in our endocrine system, which is the way our cells use hormones to send communication all over the body. Unfortunately, there is science to suggest that there are chemicals found in everyday products that can disrupt the many mechanisms of our fat cells, which can lead to an increase in the number of fat cells, the size of fat cells, or in the amount of inflammation, all of which can lead to obesity. Our research seeks to explore which chemicals exert this obesogenic effect on fat cells to add greater understanding as to why 40% of people in America have developed obesity. Understanding how these environmental toxins affect our bodies is the first step toward hopefully eliminating toxic chemicals from our everyday lives.
What do you enjoy most about your research?
My favorite part about my research is getting to dive deeper into questions I didn't have the time to ask during medical school training. Medicine can be such a fast-paced environment, especially when you are a student learning at a million miles per hour. I love that I now have the opportunity to slow down and think critically about unanswered questions in the fields of medicine and engineering. I can use my clinical experiences to put faces and real people at the front of my mind while I dive into questions that may give patients in the future more insight into their specific disease states.
What activities are you involved in outside ITI and the College of Engineering?
Outside of my lab or the classroom, I am involved in the Short Coat podcast, a talk podcast about the medical education journey, and tutoring for didactic medical school classes. In my free time, I love to spend time with friends and family, explore new places to eat and drink in the area, and travel, especially to different cities around the Midwest. I also like to indulge in plenty of "self-care," which these days looks like a good workout, getting outside for a walk, cozying up with a book, or just simply binge watching a new show with my fiancé.