Tuesday, February 23, 2021
News release prepared by Sonalysts, Inc.
---
Sonalysts, Inc. is teamed with University of Iowa Technology Institute on an Army Small Business Technology Transfer (STTR) Program Contract to Address "Physical Monitoring Techniques to Improve Warfighter Performance."  
Sonalysts, Inc. is proud to announce its successful bid and award of a Phase I contract to conduct an Army Small Business Technology Transfer (STTR, A20B-T008) entitled, "Physical Monitoring Techniques to Improve Warfighter Performance."  Teamed with Sonalysts is the University of Iowa Technology Institute.  The primary goal in Phase I is to evaluate potential wearable physiological sensors to determine if they can enable accurate classification of biophysiological states and physical activities.  As part of this evaluation, the Sonalysts-Iowa research team will determine the strength, durability, and ruggedness of the candidate sensors and materials leading into the next phases of work. 
The Principal Investigator for the effort is Sonalysts Physiologist Dr. Demetri "Zeke" Economos, (CDR, USN, Ret.).  Dr. Economos is a multi-domain operations physiologist with 28 years of military science and defense acquisition experience in the areas of aerospace, diving, and infantry physiology.  Research conducted in Iraq and Afghanistan while he was assigned to Navy Warfare Development Command and the Marine Corps Systems Command's Marine Expeditionary Rifle Squad are directly relevant to the research questions being explored here.  Other notable assignments include: Marine Corps Combat Development Command, Navy Experimental Diving Unit, and Force Aircraft Test Squadron (VX-20).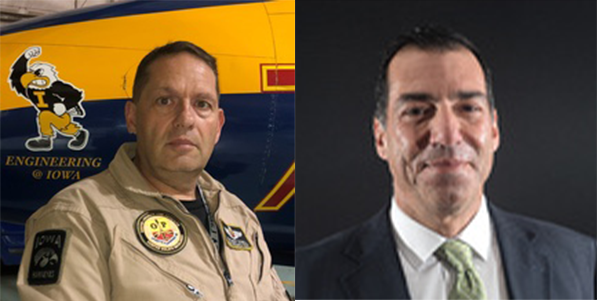 Joining Dr. Economos is Dr. Karim Malek and Dr. Thomas "Mach" Schnell from the University of Iowa Technology Institute (ITI). 
"I worked with ITI ten years ago while assigned to Marine Corps Systems Command and was absolutely impressed by their capabilities," said Economos.  "I am very pleased to be teamed with them on this extremely important project." 
Dr. Tom "Mach" Schnell, the Director of the Operator Performance Lab (OPL) at ITI, serves as the leading investigator for Iowa.  Dr. Schnell will determine warfighter cognitive performance using the Cognitive Assessment Tool Set (CATS) as part of the overall physiological-based data collection ecosystem that Sonalysts-Iowa will develop.  "We have years of experience validating body worn sensors for the military, especially for pilots," says Mach, who is also a chief test pilot.  "During this research effort with Sonalysts, we will help the Army close an important gap in understanding which body-worn sensors actually provide useful data showing when a warfighter is overloaded." 
Dr. Karim Malek is the Director of ITI and Founder of the Virtual Soldier Research (VSR) program which produced the digital twin human model called Santos®.  Santos® is now being used by all branches of the U.S. military and by many industry partners for various research projects and purposes.  Dr. Malek will augment Santos® with the real-time data provided by the Sonalysts-Iowa sensor suite system in order to enhance performance prediction analysis.  "It is a great honor and a pleasure to be working with Dr. Economos again," says Dr. Malek. "He brings a wealth of multi-domain experience and depth of knowledge that will insure the success of this project for the Warfighter". 
Founded in 1973, Sonalysts is an employee-owned defense contractor composed of approximately 400 employees and offers extensive experience and strong qualifications in a wide variety of technical disciplines including research, design, analysis, prototyping, Human Factors Engineering, Human Systems Integration, Human Performance Physiology, and fielding of advanced technologies.  Over 75% of Sonalysts' employees are degreed professionals, and more than half have military experience.  Sonalysts' unique blend of creative and technical staff provides us the opportunity to approach technical challenges from various perspectives with a more innovative and human-centric outcome. 
ITI is a world-class research hub founded in 1981.  A multi-disciplinary team of scholars and scientists work in collaborative environments with public and private sector partners advancing research in seven mission areas:  Aerospace Technology, Environment and Energy, Biotechnology, Systems and Sensors, Human Modeling and Simulation, Advanced Manufacturing and Materials, and Vehicle Safety and Automated Driving.  The Operator Performance Lab (OPL) is among 26 labs and centers at ITI and specializes in flight testing with 10 manned and unmanned aircraft and more than two decades of advancing military and commercial avionics systems.    
This research is being supported by the Army Research Office, an element of the U.S. Army Combat Capabilities Development Command's Army Research Laboratory.  However, this release, and its contents, does not necessarily reflect the position or the policy of the Government, and no official endorsement should be inferred.