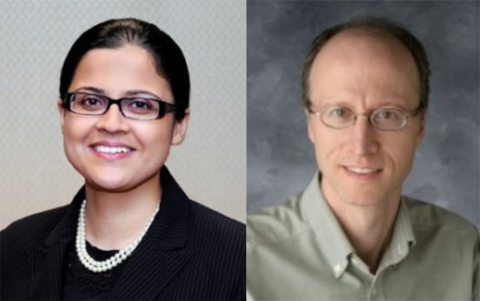 A University of Iowa professor in the College of Engineering has earned two marks of distinction this summer.
Fatima Toor, the Lowell G. Battershell Endowed Chair in Laser Engineering and associate professor of electrical and computer engineering, and colleague John Prineas, UI professor of physics and astronomy, have been named Iowa Innovator of Year by the John Pappajohn Entrepreneurial Center (Iowa JPEC). The award was announced in July and will be formally awarded at the Innovation and Entrepreneurship Honors event on Sept. 9 at 4:30 p.m. at the Old Capitol Museum in Iowa City.
Toor and Prineas co-founded Firefly Photonics LLC, a mid-infrared (mid-IR) semiconductor optoelectronics startup, in 2016, spinning off research that started at. UI. The company focuses on commercializing mid-IR semiconductor components and devices. Firefly has become internationally-known for developing megapixel mid-IR LED video arrays, individual LED and PD components for gas sensors that can be used in a wide range of environmental, industrial, and health diagnostic applications.
Semiconductor development is a national priority. Congress has identified the importance of semiconductor device innovation to compete with globally, as evidenced by the $280 billion CHIPS for America Act, which passed last month.
In addition, earlier this month, Toor was announced as one of 77 new senior members of SPIE, the international society for optics and photonics. The professional organization profiled Toor as one of the optics and photonics women leaders. Senior members are SPIE members of distinction who are recognized for their professional experience and technical accomplishments, their active involvement with the optics community and with SPIE, and for significant performance that sets them apart from their peers.
Toor is a faculty affiliate with the Iowa Technology Institute and leads a research team at the Toor Lab.