University of Iowa Technology Institute
The University of Iowa is hosting an ImagiQ webinar series exploring artificial intelligence and federated/distributed machine learning for medical imaging.
The first event will feature Dr. Daniel Rubin, professor of biomedical data science, radiology, medicine, and ophthalmology at Stanford University and a principal investigator of multiple federated learning projects in medical imaging. Dr. Rubin will highlight some of the exciting frontiers in AI medical imaging.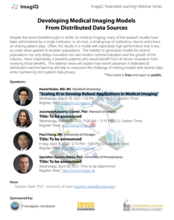 While AI offers great promise for medical imaging, data are not widely shared due to restriction on sharing patient information, which delays innovation and hinders commercialization. Dr. Rubin will dive into these themes in the talk, "Scaling AI to Develop Robust Applications in Medical Imaging."
This is scheduled for Wednesday, March 10, 2021, 1:30 – 2:15 PM (ET) / 12:30 – 1:15 PM (CT).
Register for the event at http://bit.ly/imagiq-dr.  Registration is free.
Full event schedules and the list of speakers can be found in the flyer to the right. 
Stephen Baek, a University of Iowa assistant professor of industrial and systems engineering and an Iowa Technology faculty affiliate, is organizing the webinar series.
The National Science Foundation (NSF) awarded a $1 million phase one grant in 2020 to an Iowa-led, multi-university consortium headed by Baek to advance medical imaging research through artificial intelligence (AI). A focal point of the work has been to design and develop a usage-inspired software platform, called ImagiQ, centered around the idea of asynchronous and decentralized federated learning.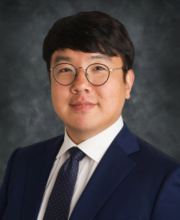 The NSF-funded consortium is comprised of five academic institutions including the University of Iowa, Stanford University, University of Chicago, Harvard University/Massachusetts General Hospital, and Yale University, as well as industry partners such as NVIDIA, Lunit, Digital Diagnostics (formerly known as IDX), and others. The consortium aims to address regulatory, administrative, and technical impediments in patient data sharing and to advance how medical imaging models (and healthcare AI solutions in general) are trained and developed through a novel federated learning strategy.
Attend the webinar series to find out how federated learning can help advance AI development in medical imaging (and beyond).
For questions, or if you need any special accommodations, contact stephen-baek@uiowa.edu.
Additional speakers in the series include: 
Jayashree Kalpathy-Cramer, PhD (Harvard University), on Wednesday, March 24, 2021, 11:00 AM – 12:15 PM (U.S. Eastern Time) Register (free): http://bit.ly/imagiq-jkc
Paul Chang, MD (University of Chicago), on Friday, April 16, 2021, 12:15 PM – 1:30 PM (U.S. Eastern Time) Register (free): http://bit.ly/imagiq-pc
Spyridon (Spyros) Bakas, PhD (University of Pennsylvania), on Wednesday, April 28, 2021, time to be determined. Register (free): http://bit.ly/imagiq-sb