Wednesday, August 10, 2022
University of Iowa researchers conducted a novel investigation into whether community scientists could map air quality and improve urban health at a time when extreme heat and air pollution threaten large cities.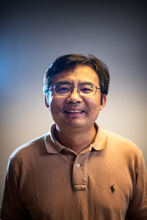 Funded by NASA, the investigation is conducted in collaboration with University of California – Riverside and Boston-based non-profit organization, Earth Watch Institute.  
The scientists led by Jun Wang, the James E. Ashton Professor Engineering at UI, devised a pilot program in Los Angeles, Calif., to measure the daily on-the-ground pattern of urban heat and ozone pollution. They considered whether the community scientists' results could effectively augment similar types of air quality measurements taken from satellites.  
"This work not only connects community members with their local environment, but it builds on a host of emerging community science projects which value the role of 'amateur' investigators in expanding the spatial and temporal scales of environmental measurements available to researchers," wrote Gabriel Filippelli, Editor in Chief of GeoHealth. 
The study, "Resolving and Predicting Neighborhood Vulnerability to Urban Heat and Air Pollution: Insights from a Pilot Project of Community Science," was published in GeoHealth in April. In July, the article was selected as an "Editor's Highlight" and featured on EOS.org, an online science news magazine.  
Wang and Lorena Castro-Garcia, an assistant research scientist at UI, contributed to the article, along with authors from several universities. At UI, Wang is the interim DEO of the Department of Chemical and Biochemical Engineering, the assistant director of the Iowa Technology Institute, and leads the Atmospheric and Environmental Research Lab, which conducts much of his research.