Leaders of the U.S. Department of Homeland Security (DHS) HQ Office of Academic Engagement (OAE) visited the University of Iowa campus to gain an Iowa perspective on national security-related topics.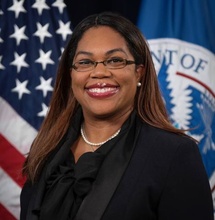 OAE Executive Director Traci Silas and Manda Norman, associate director for Academic Research & Campus Safety in OAE, met with multidisciplinary panels of UI scholars on July 18 and 19 for briefings, demonstrations, and tours. Topics included infectious disease monitoring, pandemic-related research, climate studies and resilience, mental health, occupational and environmental health, cybersecurity, campus safety, and threat assessment and recognition.
"The purpose of the meeting was to start a dialogue with an eye toward creating a pathway for engagement," said Jun Wang, James E. Ashton Professor in the College of Engineering, Interim DEO of Chemical and Biochemical Engineering, and a leading scholar in atmospheric sciences.
Wang helped organize the visit with the Office of the Vice President for Research. He noted the visit offered UI faculty, staff, and students opportunities to share their work and learn about training grants, internships, and projects available through DHS.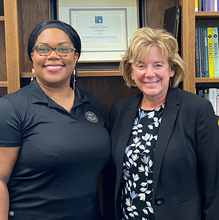 The OAE mission is to strengthen DHS's connection with the academic community on homeland security-related issues in the areas of engagement, resilience, and outreach. 
During the stop, Silas met with UI President Barbara Wilson. Silas also toured the State Hygienic Laboratory, the Virtual Soldier Research Lab, and the Operator Performance Lab and observed a demonstration by Wang's Atmospheric and Environmental Research Lab. Representatives from a variety of units also presented, including the Threat Assessment Program, University Counseling Services, Information Technology Services, Office of Sustainability and the Environment, Office of Community Engagement, Center for Global & Regional Environmental Research, Iowa Technology Institute, and several others.
Silas, an attorney by training, has been leading the Academic Engagement Office since May 2021.
Silas has been traveling the country to engage a variety of academic leaders to share information about DHS priorities and resources, as well as gain a diverse and bird's-eye perspective on security issues facing academia and the nation.