Throughout Earth Month, ITI will highlighting research projects of faculty, staff, and researchers designed to create a more sustainable and cleaner planet.
---
University of Iowa faculty, staff, and student researchers at the Iowa Technology Institute (ITI) are developing a low-cost canopy sensor system to help farmers set more efficient irrigation schedules and plan their day-to-day operations for the crop fields.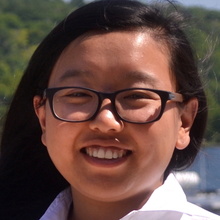 The canopy sensor system is equipped with open-air sensors for recording temperature, air pressure, and relative humidity, and underground sensors for measuring soil moisture and temperature. The equipment transmits data in real time via Wi-Fi/LoRaWAN communication protocol for use in weather forecasting and crop yield prediction.
The end results are delivered to farmers via internet and phone apps on demand, allowing farmers to efficiently water their fields and reduce excess water used during irrigation.
"If farmers can have a more effective irrigation scheduling mechanism, this will lead to a lot of positive environmental impacts," said Huanxin (Jessie) Zhang, an assistant research scientist at ITI's Atmospheric and Environmental Research (AER) Lab. "This will help decrease water usage and reduce the impacts of soil erosion."
Several canopy sensor systems are up and running. Six are in Nebraska and 14 are installed in various places in Iowa, including Des Moines and Cedar Rapids.
Four sensors are installed around campus to evaluate the lab's hardware. Fully functioning above-ground and underground soil sensors are installed in front of the entrance to the Engineering Research Facility (ERF), and three above-ground sensors are installed outside the Seamans Center.
"Testing and developing these sensors takes a lot of time and different phases," Zhang said. "Everything is perfect when you think in theory, but when you put the sensor into the field you have to account for the latest problems that come up."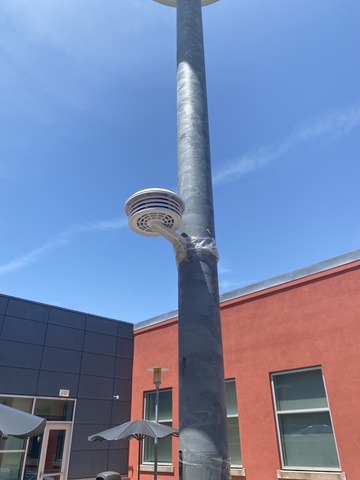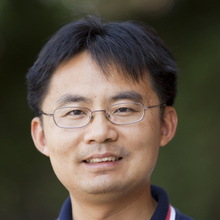 Jun Wang, a UI professor of chemical and biochemical engineering and University of Iowa Technology Institute (ITI) assistant director, produced the idea for the sensors four years ago. The project officially began in 2019 following a $1.6 million grant from the United States Department of Agriculture (USDA). Wang is also the director of the AER Lab and the James E. Ashton Professor of Engineering.
Wang's team includes assistant research scientists Zhang and Lorena Castro and graduate research assistant Zeyuan Ru. Castro and Ru have overseen software management and sensor development, while Zhang has focused on WRF-Chem model development.
The canopy sensor system has built-in Wi-Fi connectivity, internal voltage monitoring, and a PCB trace antenna, according to Ru. They are powered by three standard rechargeable AA NiMH batteries and a small solar panel. It can also be customized to use LoRaWAN to transmit the data in low frequency and in low cost over large areas where the phone signal is weak or service is expensive. Ru presented the canopy sensor system as a lead author at last December's American Geophysical Union (AGU) meeting--the largest international conference in Earth sciences--and received the outstanding presentation award, one of the most prestigious awards that a graduate student can receive from AGU.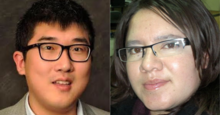 Following installation, the equipment will receive an identification number and the research team will be notified with the location of the device. The sensor data is uploaded to the cloud, and farmers can then view the real time measurements on the Earth System Modeling Complex (ESMC) website or app.
"The purpose of this is that as soon as the device is connected, we will know where the device is located," Castro said. "Immediately the data will be uploaded, so this is how close to real time we can start visualizing the data for the devices."
In partnership with Protostudio, three generations of canopy sensor systems have been built over the course of the project to account for extreme weather and early construction flaws.
Phase one of the project included testing and developing the hardware for the open-air and underground sensors. The next phase will begin this spring when the team installs newly modified open-air and underground sensors in Nebraska fields and rural areas around Eastern Iowa to improve the model for the final product.
The sensors are still in the research stage and are not currently commercialized, but farmers who would like to use the technology can contact the AER lab to take part in field testing.