Wednesday, November 10, 2021
University of Iowa Technology Institute
The Department of Chemistry and Climate / Atmospheric Science & Engineering (CASE) Colloquium are hosting Prof. Delphine Farmer on Friday, Nov 12 at 3:30 PM.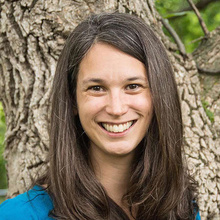 Prof. Delphine Farmer, who is in the Department of Chemistry at Colorado State University, will present "The Curious Case of the Catechol in the Night and other Atmospheric Tales."
The event is available via Zoom at: https://uiowa.zoom.us/j/92919492650.  
There are opportunities for students and faculty to meet with Prof. Farmer over Zoom on Nov 12:
Student discussion: 2:30-3:15 PM on Nov 12. Undergraduate and graduate students across disciplines are welcome. 

RSVP (for students)

 by close of business Wednesday
Small group faculty discussions: 1:30-1:55 PM and 2:00-2:25 PM.  

RSVP (for faculty)

 by close of business Wednesday
Learn about the Colloquium: https://cgrer.uiowa.edu/new-seminar-series  
Find past CASE presentations here.
ABSTRACT: Wildfire smoke is an emerging problem across the western U.S. – impacting both human health and the optical properties of the atmosphere. One factor limiting our ability to model wildfire smoke plumes is our weak understanding of emissions ratios of organic aerosol, and the chemistry that occurs in the nearfield – the first few hours of a smoke plume. To this end, we took sub-micron aerosol composition measurements as part of the WE-CAN aircraft campaign in 2018. Using these data, I will explore the emissions and evolution of organic aerosol emissions – and highlight the role of oxygenated aromatic compounds in contributing to organic aerosol and its subsequent impacts on aerosol properties. Catechol is a particularly interesting oxygenated aromatic, as it can be oxidized to nitrocatechol. In laboratory experiments, we observed curious bifurcation of catechol oxidation products during oxidation by ozone and the nitrate radical, which spurred an exploration of heterogeneous nucleation mechanisms, and their potential to influence atmospheric chemistry.
BIOGRAPHY: Delphine Farmer (Ph.D.) is a professor in Chemistry at Colorado State University, where she leads a research group in atmospheric chemistry. Her work combines instrument development, analytical chemistry, and forest ecology to understand air pollution and climate. Her research has been recognized widely, with the Beckman Young Investigator Award, NOAA Climate & Global Change Postdoctoral Fellowship, and numerous grants from NSF and NOAA. Individuals with disabilities are encouraged to attend all University of Iowa-sponsored events. If you are a person with a disability who requires a reasonable accommodation in order to participate in this program, please contact Amy Parker in advance at 319-335-3332.