Tuesday, September 7, 2021
University of Iowa Technology Institute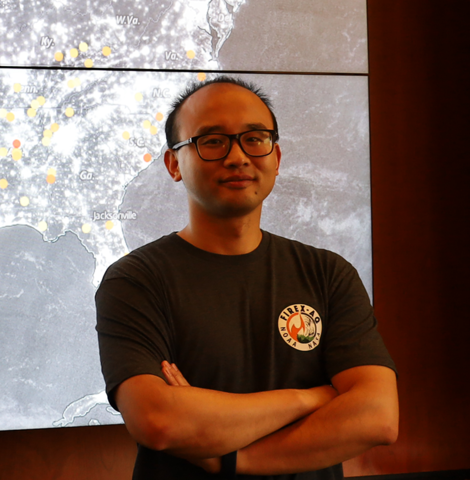 Meng Zhou, a fourth-year PhD student conducting research at the University of Iowa Technology Institute (ITI), has been awarded a NASA research fellowship to study air quality at night. 
Zhou earned the Future Investigators in NASA Earth and Space Science and Technology (FINESST) fellowship in NASA's Earth Science Division. Zhou works with Jun Wang, James E. Ashton Professor of chemical and biochemical engineering, at ITI's Atmospheric and Environmental Research (AER) Lab.
"For me, this award is definitely a milestone in my research career," Zhou said. "You can't imagine how happy I was when I heard the news. My research is now funded by one of the most prestigious research institutions in the world."
Through the fellowship, Zhou will work to improve the accuracy of 24-hour air quality forecasting using satellite instruments that collect nighttime measurements of aerosols, such as smoke, urban haze, and desert dust. Only daytime observations of aerosols are currently available.
Meng is developing an algorithm using moonlight reflected by the atmosphere to estimate the amount of aerosols and track the movement of air pollution, such as smoke plumes from wildfires, in the atmosphere. The research also benefits AER's fire detection studies.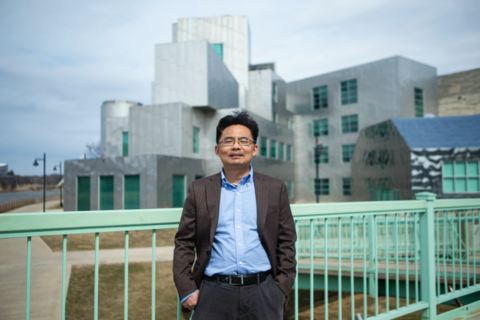 "Meng's research is the first of its kind, novel, and outstanding," Wang said.
Zhou earned a Bachelor of Arts degree in electronic information engineering from the Civil Aviation University of China in Tianjin, China. He joined the University of Iowa in 2017 and is pursuing a PhD in geoinformatics through the Iowa Informatics Initiative.  
---
The Iowa Technology Institute, or ITI, is an interdisciplinary research hub founded in 1981 at the University of Iowa College of Engineering. Grounded in engineering and science, ITI cultivates collaboration, invents advanced technologies, and conducts trailblazing basic and applied research in design, simulation, and experimentation that enables a safer and more productive future.