Wednesday, August 25, 2021
The National Aeronautics and Space Administration (NASA) awarded a University of Iowa Technology Institute (ITI) scientist grants totaling $1.3 million to study atmospheric and climate impacts from wildfires that have ravaged parts of the planet.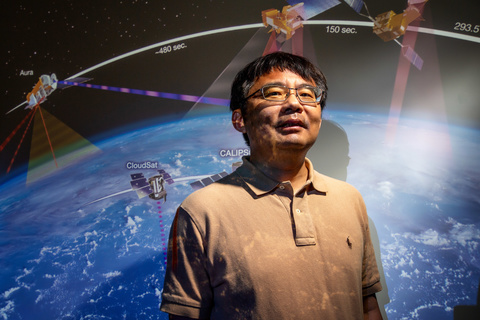 Jun Wang, the James E. Ashton Professor of Engineering and ITI assistant director, will lead a three-year, $540,000 study with co-investigator Fangqun Yu, a senior research associate and professor at University at Albany. Measurements from the Stratospheric Aerosol and Gas Experiment III, or SAGE III, a sensor aboard the International Space Station, will enable investigation of the aerosol composition and temperature in the Upper Troposphere and Lower Stratosphere (UTLS).
Wildfires, such as those in Australia and the Western United States, have injected plumes of black carbon particles or aerosols into the UTLS approximately 6 to 18 miles above the Earth's surface.
"We are trying to look at how much aerosols there are in the UTLS, and if there is significant warming effect that could arise from fires," Wang said, who directs the Atmospheric and Environmental Research Lab at ITI and holds a faculty appointment in chemical and biochemical engineering in the College of Engineering. 
NASA selected Wang to serve as the leader for the SAGE III science team consisting of a dozen principal investigators from institutions around the country. Among its tasks, the science team aims to broaden the scientific impact and outreach of SAGE III.
Wang is also leading a four-year, $800,000 grant sponsored by NASA's Modeling, Analysis, and Prediction (MAP) program. In collaboration with Arlindo da Silva, a research meteorologist at NASA's Goddard Space Flight Center, scientists are developing a novel approach to map fire combustion efficiency from space for the first time.
Knowing the fire combustion efficiency can help better measure fire impacts on air quality, lead to a better estimate of greenhouse gas such as carbon dioxide and black carbon emitted from fires, and inform firefighting strategies.
"We believe we can quantify where a fire is growing and where it is dying," Wang said. "This information can help firefighters decide where to put resources to fight the fire."