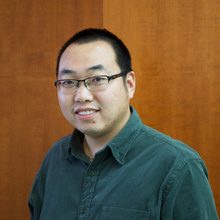 Fifth-year University of Iowa PhD candidate Qing Zou is on a roll.
The graduate research assistant at the Iowa Technology Institute placed first for the Best Paper Award at the Institute of Electrical and Electronics Engineers-International Symposium on Biomedical Imaging (IEEE-ISBI) 2021 on April 16. On April 19, he defended his PhD dissertation in the multidisciplinary Applied Mathematics & Computational Sciences (AMCS) program.
"ISBI is the premier annual IEEE conference in the area of biomedical imaging with around 400 papers and 700 attendees," said Mathews Jacob, director of the Computational Biomedical Imaging Group (CBIG) where Zou works as a graduate research assistant. "It is great to hear that Qing's work is recognized by the ISBI community."
CBIG is part of the Iowa Technology Institute at the College of Engineering.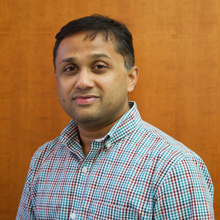 The winning paper, "Dynamic imaging using a deep generative SToRM (Gen-SToRM) model," introduces a novel deep learning approach to improve free-breathing cardiac MRI. Zou was the lead author, while Jacob, Stan Kruger, Abdul Haseeb Ahmed, and Prashant Nagpal were co-authors.
The CBIG research group developed the generative "SToRM" algorithm as a method for overcoming challenges with free-breathing cardiac MRIs. "SToRM" is short for "smoothness regularization on manifold."
"My research tries to make the cardiac magnetic resonance examination possible for the patients who cannot hold their breath," Zou said. "This allows the doctors to make informed decisions about diagnosis and improve treatment plans in these patients."
Cardiac MRI tests help to test a patient's heart function and look for various diseases, said Nagpal, a clinical assistant professor of radiology at University of Iowa Hospitals and Clinics and director of Cardiovascular Imaging. While it is an excellent test to diagnose various heart diseases, many patients are unable to hold their breath the necessary 40-50 times, each time for 10-15 seconds, he said, citing those with severe lung diseases, morbid obesity, and some children.
"Qing's approach is innovative and has a potential to reconstruct images in various parts of breathing and heart-beat cycle," Nagpal said. "Such a discovery will allow cardiac MRI in patients that currently are unable to even get these tests and will decrease the need for anesthesia in children for performing these tests."
A central challenge in overcoming limitations of cardiac MRI is the need for large and pristine datasets to train deep learning models that are making a big impact in medical imaging, said Jacob, who is also professor of electrical and computer engineering.
"Qing's approach shows that a patient-specific deep learning model can be learned from only the measurements of that subject," Jacob said. "Once learned, this model can generate images with the desired properties (e.g., specific slice, cardiac and respiratory phases). I believe that such approaches, where we learn generative models rather than images from data, would emerge to be powerful tools in this area."
Zou, a native of Jiangsu province in China, plans to remain at UI in the same research group as a postdoc to continue to work on this topic.
"The University of Iowa has state-of-the-art MRI facilities and an excellent set of collaborators in this area," he said. "My interest is to further develop this exciting methodology and make it widely applicable in the clinic, which will benefit the clinical community."