Thursday, February 11, 2021
Iowa Technology Institute faculty affiliates are helping "power discovery" through artificial intelligence at the University of Iowa.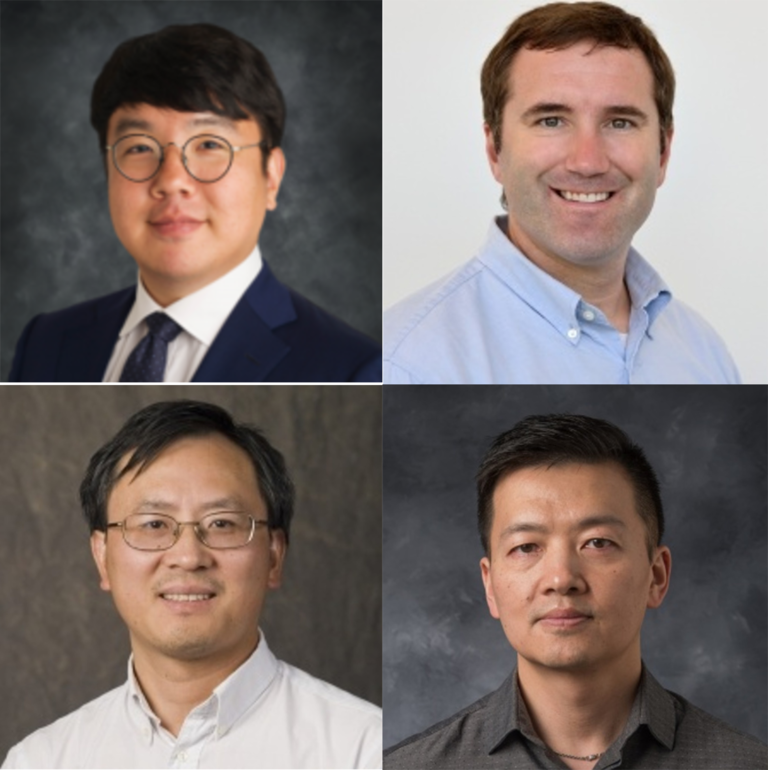 The Iowa Center for Advancement, in its March 2021 edition of Iowa Magazine, examined the multitude of ways Iowa researchers are making breakthroughs as "artificial intelligence is reshaping every aspect of society and industry." The work benefits the world at large, and many focus areas contribute directly problems facing Iowa. 
A number of ITI faculty affiliates incorporate artificial intelligence in their research, and several were recognized in the Iowa Magazine. 
Shaoping Xiao, an associate professor of mechanical engineering who leads the Multiscale Computational Science and Engineering Laboratory at ITI, has been working to forecast and mitigate floods, one of the most destructive forces impacting our state. 
UI researchers are proposing a new, more flexible approach to flood control that would protect multiple locations instead of just one urban center. The idea is to create thousands of small water storage structures throughout the river basin—specifically earth dams and wetlands—then use AI to control the outlets in those retention systems.

Using a physics-based mathematical model that calculates rainfall uncertainties, the researchers are training a neural network to predict water levels in real-time using data generated from massive computer simulations. Ultimately, the proposed dams and wetlands could be controlled using AI algorithms to hold and release water in a way that minimizes the potential for flooding at multiple locations throughout the river network. Preliminary studies have shown that flood mitigation in a small river network can be achieved through this approach.

Xiao's team is using the Turkey River basin in northeastern Iowa as the virtual test bed to develop and validate their AI model. Having successfully developed their network architecture and model framework, Xiao and his colleagues are currently testing the computer model with different input variables.
The work of ITI faculty affiliates Michael Schnieders, Xiaodong Wu, and Stephen Baek were also included, among University of Iowa professors from across campus and disciplines making a difference. 
Michael J. Schnieders, associate professor of biomedical engineering and of biochemistry and director of the Computational Biomolecular Engineering Lab, was recognized for artificial intelligence advancements in biochemistry. He has been studying protein structure by combining deep learning with physics-based simulations. 
Xiaodong Wu, a professor of electrical and computer engineering and of radiation oncology who leads a research group at ITI, is part of a multidisciplinary team including Jesus Gonzalez Bosquet, Hui Xie, Douglas Russo, and Maheen Rajput. They are working to develop a new AI diagnostic tool that can objectively identify ovarian cancer early and before surgery. The team of medical and engineering experts aims to create a machine-learning based prediction model that will discriminate which patients with pelvic masses diagnosed by CT scans are suffering from ovarian cancer.
"Ovarian cancer is a leading cause of cancer death among women in the United States, due in large part because most patients present with advanced disease at diagnosis," the researchers wrote in a project proposal. "Despite considerable efforts for early diagnosis and/or screening, to date there is no valid diagnostic tool capable of identifying ovarian cancer before it becomes symptomatic and disperses outside the pelvis."
Three efforts of Stephen Baek, assistant professor of industrial and systems engineering and director of the Visual Intelligence Laboratory, were cited.
Baek has been collaborating with Don Anderson, Geb Thomas, and Matt Karam to use artificial intelligence to advance medicine by ass

essing surgical performance and providing virtual coaching.

He's also contributed to a couple of advancements in engineering, including seeking the hidden control mechanism of the central nervous system for lumbar stabilization and back pain relief with Tae-Hong Lim.
Also in engineering, Baek has been generating correlation data between brain geometry and gene expression with Thomas Nickl-Jockschat.