Wednesday, November 11, 2020
As a member of Detachment 255, and through her work as a flight test research assistant, Abbie Moore has traveled to military bases across the country, experiencing unique military and professional training.
Moore also spent time with the University of Iowa Technology Institute as a former flight test research assistant at the Operator Performance Lab. Here is her story as profiled by Jack Rossi and Tim Schoon for the University of Iowa.
---
In high school, Abbie Moore knew she wanted a career with unique opportunities and a chance for continued growth as a leader.
She knew the University of Iowa was where she would make that happen. It was ideal for Moore: a top-tier university only a short drive from her hometown. As for what that career would be, Moore looked to family members' military experience.
"I was inspired by the armed forces because I have always known that I wanted to be of service to others," Moore says. "I have two cousins who served in the Air Force and Army when I was younger. Seeing the way they got to travel the world and have experiences no one else in my family has had was so amazing to me."
At Iowa, Moore joined the Air Force Reserve Officers' Training Corps (AFROTC) Detachment 255 led by Lt. Col. Nicole Capozzi. Now in her senior year, Moore has ascended to the highest cadet leadership position in the program.
"Abbie has served in various roles throughout her time in AFROTC, culminating as the spring 2020 cadet group commander overseeing cadet operations and training for more than 40 cadets," Capozzi says.
When it came down to choosing an area of study, Moore committed to becoming an engineer thanks to two important factors.
"My dad is an engineer, and I have always been so impressed by the way he can see a problem and develop a creative solution every time," Moore says. "When I spoke with the members of Detachment 255 about becoming an Air Force Reserve Officers' Training Corps cadet, I learned that the military favors technical degrees. With those two things in mind, and my love of science, I chose engineering."
In addition to an engineering course load, Moore's schedule couldn't get any more crowded. A book given to her by her mentor, Lt. Shelby Straughn, called The Gifts of Imperfection, encouraged Moore to embrace all aspects of her professional and personal growth, which she has taken to heart.
The University of Iowa Air Force ROTC Detachment 255 trains, develops, and prepares cadets for their role in the United States Air Force. Our cadets are encouraged to participate in the community and the university, while honing their leadership potential. The skills that you will acquire here will last you a lifetime.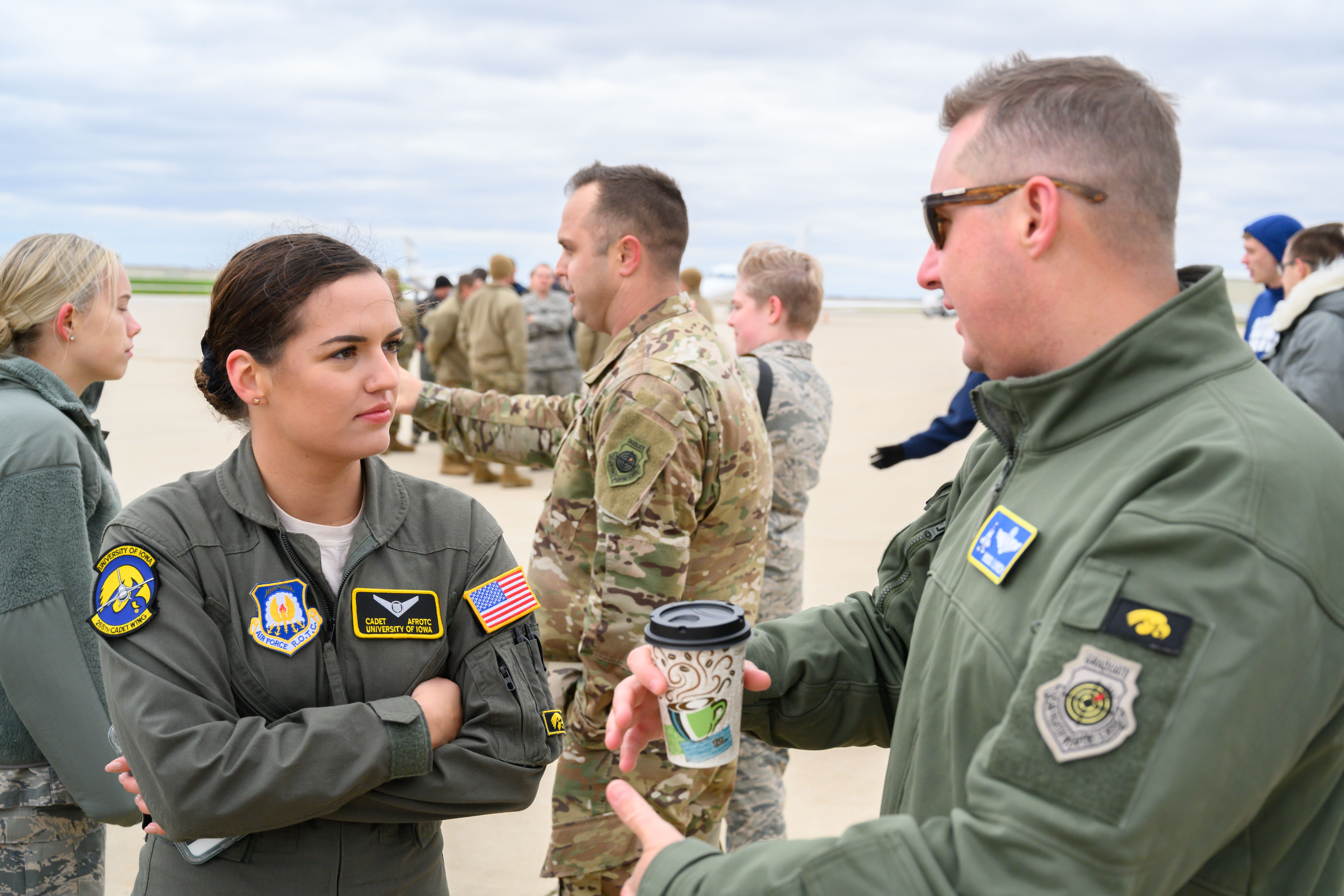 Moore serves as a private tutor and assistant teacher, and recently became a certified yoga teacher and opened an LLC, Moon Rising Yoga, which make her ROTC accomplishments that much more impressive.
As a member of Detachment 255, and through her work as a flight test research assistant at the UI's Operator Performance Laboratory (OPL), Moore has traveled to military bases across the country. At each location, Moore experienced unique military and professional training while also meeting hundreds of cadets and military officers from across the country and around the world.
She has visited Holloman Air Force Base in New Mexico; the United States Air Force Academy in Colorado Springs, Colorado; Whiteman Air Force Base in Missouri; Wright-Patterson Air Force Base in Ohio; Maxwell Air Force Base in Alabama; and Edwards Air Force Base in California, where she recorded flight-test data while aboard an Air Force C-17.
Moore says these opportunities would not have been available to her anywhere but Iowa—or without the help of officers in Detachment 255.
"The tireless work done by the active-duty officers of Detachment 255 to secure these opportunities for their cadets is unmatched, and I am truly so thankful," she says.
After her graduation in December, Moore plans to attend U.S. Air Force Reserves Pilot Training, continuing her journey to earn her wings.
"(Moore) has excelled in the program and has shown maturity beyond her years," Capozzi says. "She is in constant search of improvement, both personally and professionally, and understands her ability to provide positive, productive, powerful influence as a student, cadet, and future officer in our Air Force."
Moore's long-term plans are to earn a master's degree and become a professor or lecturer while continuing to fly in the Air Force.
When she's finished with her education, Moore's title could be something like this: Air Force pilot/professor/yoga teacher—but Moore says she will always be open to earning more credentials as she embraces all life has to offer.