University of Iowa Technology Institute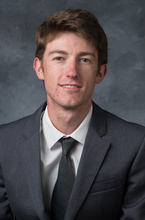 A graduating University of Iowa senior is heading into the workforce armed with a degree in civil engineering, a resume full of research experience gained at the Iowa Technology Institute (ITI), and the title of 2021 College of Engineering "Outstanding Student Researcher."
Brian Shanahan, who is on track to graduate in May, focused his research on sustainable transportation, including investigating asphalt pavement recycling. The Park Ridge, Ill., native worked as an undergraduate research assistant at ITI at the Laboratory for Advanced Construction Technology (LACT) under the guidance of Hosin "David" Lee, LACT director and professor of civil engineering.
"My time at ITI and with Prof. Lee has inspired and provided me with the confidence to pursue answers to questions that people have yet to answer or didn't have the tools to understand," Shanahan said, noting the most impactful experience was attending the 1st International Conference on Smart Cities (ICSC1) in Seoul, Korea, in July 2019, where he presented his first poster.
The Outstanding Student Researcher honor was one of a dozen categories awarded during the CoE Student Leadership Awards ceremony held virtually on April 28, 2021.
View the full list of CoE Student Leadership Awards winners: https://www.engineering.uiowa.edu/2021-student-leadership-award-winners. 
The Outstanding Student Researcher award recognizes an undergraduate student researcher who demonstrates exceptional time, effort, and perseverance in pursuing research interests under the direction of a faculty or staff member.
"I supervised many undergraduate students during the past 35 years; this student has accomplished more than any undergraduate research assistant," said Lee, who nominated Shanahan. "I have been impressed by his enthusiasm and dedication to excellence." 
Shanahan contributed hands-on laboratory work including performing asphalt mix designs through the AASHTO R-30 procedure, which is a process to simulate the aging that occurs during construction. This work quickly expanded into literature reviews, presenting posters at conferences (in person and virtually), and contributing to an Iowa Department of Transportation proposal on a sustainable transportation infrastructure implementation plan, Shanahan said.
"I have focused on studying hemispherical domes to improve air quality, noise measurements using sound level meter at O'Hare airport in Chicago, and 3D models of drones for pavement inspections," Shanahan said.
After graduation, Shanahan is expected to join Burns and McDonnell Engineering at its headquarters in Kansas City, Mo. He will be in the Transmission and Distribution (T&D) Overhead services group working on modernizing the electrical grid. Simultaneously, he will be pursuing a master's degree in civil engineering with a focus on transportation, online through the University of Iowa.