Friday, September 16, 2022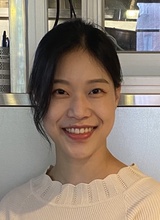 Hyerim Kim, a University of Iowa graduate student in chemical and biochemical engineering, earned a second place award at the 16th Conference on Atmospheric Radiation, held as part of the 2022 Collective Madison Meeting in August, organized by the American Meteorological Society (AMS).
The AMS has approximately 12,000 members around the world, including scientists, researchers, students, educators, broadcasters, and professionals, working together to make a difference in the fields of weather, water, and climate research.
Presented by AMS, the award was in the category of Outstanding Student Presentation. Kim provided a presentation entitled, "Studying Particulate Matter Air Quality in South Korea using Satellite Data, Ground Observation and CMAQ Modeling."
The poster recognizes the importance of closing gaps in air quality data, and it can be done by combining ground and satellite-based measurements with air quality model outputs. Kim's study intended to set a fundamental background to improve chemical transport modeling in South Korea by using multiple observation data.
Jessie Huanxin Zhang, Xi Chen, Gregory R. Carmichael, and Jun Wang are also listed as authors.
Wang, James E. Ashton Professor of Engineering, and Carmichael, Karl Kammermeyer Professor of Chemical and Biochemical Engineering, are Kim's co-advisors. Kim is a graduate research assistant at the Iowa Technology Institute in the Atmospheric and Environmental Research Lab.